Natural Ways to Relieve Lower Back Pain
Lower back pain is extremely common, with almost 80% of adults suffering from lower back pain at some point during their lives. The lower back starts just below the ribcage in an area called the lumbar region. Pain can be very intense, though often it will get better on its own, and can range from a dull ache to a stabbing sensation. Chronic lower back pain is when the discomfort lasts for more than three months.
Types of Lower Back Pain
There are various kinds of back pain, all of which stem from different causes and may need different types of treatment. It is important to find out what is causing the pain so that the right treatment can be applied.
Lower back pain can originate from any of the following areas: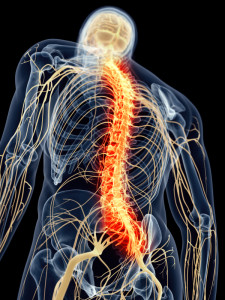 Bony lumbar spine
Discs between the vertebrae
Ligaments around the spine and discs
Spinal cord and nerves
Muscles in the lower back
Internal organs within the pelvis and abdomen
Skin covering the lumbar area
Lower Back Pain Causes
Certain risk factors can cause or amplify lower back pain, such as being overweight, having an inactive lifestyle, or doing a job that requires heavy lifting or sitting for long periods of time. Following is a list of common causes:
Doing heavy lifting or pulling while twisting the spine
Sitting at a desk all day
Carrying a heavy shoulder bag or backpack each day
Overdoing your exercises, such as trying to make up for a sedentary week over the weekend
Having bad posture, like slouching
Having a herniated disc – due to aging or injuries – where there is wear and tear on the discs in the spine's vertebrae, putting pressure on the spinal nerve roots
Having a chronic condition such as spinal stenosis (narrowing of the space around the spinal nerve), spondylitis (pain and stiffness due to inflammation in the spinal joints), and fibromyalgia (widespread muscle aches, including the back)
Being pregnant due to pelvic changes and additional weight that needs to be carried
Prevention of Lower Back Pain
There are certain things we can do to prevent or ease lower back pain by making a few changes to our lifestyle and posture, such as: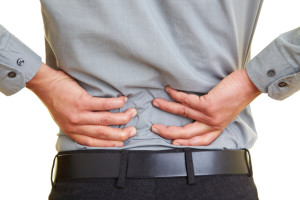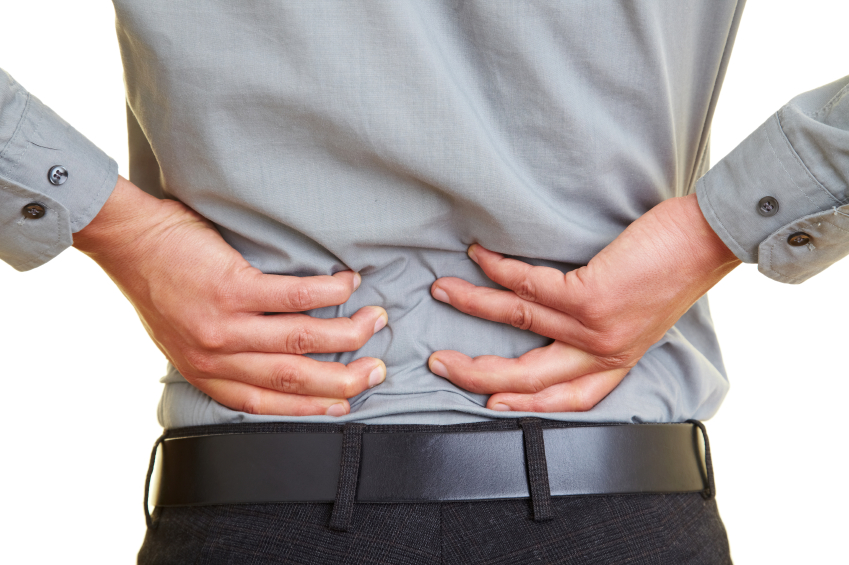 Maintaining a healthy weight
Exercising regularly. In general, more movement is good.
Lifting with your legs while keeping a straight back. Engage stabilizing muscles in the abdomen always.
Stretching and warming up your muscles before exercise
Wearing comfortable, low-heeled shoes
Getting an office chair with good lumbar support.
Walking around often, taking frequent breaks if you have a sedentary job.
Sleeping on a firm surface, and on your side with the knees drawn into a fetal position to relieve pressure and open up the joints in the spine
Sitting upright by keeping the shoulders back and feet resting on a low stool
Raising your computer screen so that you don't need to hunch forward to see
Standing upright while keeping your core firm and balancing your weight evenly between both feet
Swapping your heavy bag with a wheeled briefcase
13 Natural Ways to Treat Lower Back Pain
Treating chronic lower back pain with Western medications can damage the intestines, cause stomach ulcers, and are sometimes addictive, which is why I like to introduce my patients to natural treatments. Here are steps you can take to treat lower back pain naturally:
Take a warm bath or apply a heating pad to the affected area. Both these treatments are temporary.
Opt for bed rest, but not for too long. Staying in bed for more than a day or two may make the back pain even worse.
Certain yoga and stretching poses may help relieve the pain. It is important though to visit an instructor experienced with low back pain and remember to inform him or her of your condition. Never force through the pain to achieve a specific pose or stretch.
Chiropractors and osteopathic doctors can apply spinal manipulation, a technique where they apply pressure with their hands to the bones and surrounding area. This type of treatment only works for certain types of conditions.
Massage therapy may help relieve muscle pain.
Acupuncture is an effective treatment for pain relief. It's my personal favorite, naturally!
Physical therapy is a good way to strengthen the muscles.
Ask your doctor or therapist about strengthening exercises for the back, such as the flexion and extension exercises. These exercises should never be attempted alone.
Strength training can help to strengthen the back and core muscles to support the back. These exercises can prevent pain and injuries.
Aquatic or water therapy, usually done in a pool, is a gentle way to ease lower back pain. This kind of treatment is especially suitable for pregnant women or people who have difficulty moving.
Cooking with herbs and spices with anti-inflammatory properties, like ginger, and curcumin (turmeric) can help treat inflammation causing back pain.
Earthing or grounding, a practice where you walk barefoot on the earth, is an excellent way to address certain kinds of lower back pain.
Herbal treatments, both topical and internal can help with selected back pain causes.
Leaving Lower Back Pain Behind
Lower back pain can be crippling and can affect your quality of life. It is our responsibility to look after ourselves, and it's never too early to start. If you need advice on how to prevent lower back pain or if you suffer from lower back pain and need treatment, please get in contact with me. The sooner the problem is addressed, the better.